Llona & Bustamante Abogados
Professional quality for comprehensive and personalized legal advice
Llona & Bustamante Abogados was founded in 1963 by Álvaro Llona Bernal and Manuel Bustamante Olivares. Our professional practice is focused on solid ethical principles and operational excellence, made up of lawyers with undergraduate and postgraduate studies at the most prestigious universities in the country and abroad, some of them teaching at the university. We must emphasize that a large part of our team has been professionally trained in the Study.
See the archive pdf here.
Personalized Legal Services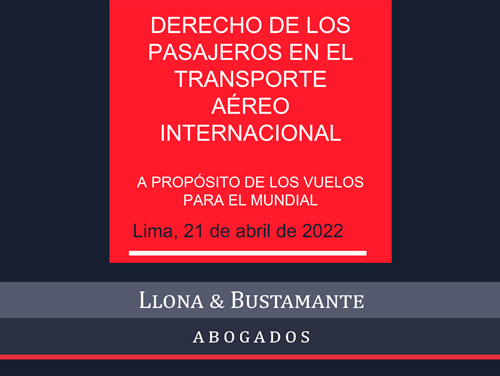 Vea la presentación del webinar aquí. Vea el video del webinar aquí. Participación de Alfonso Fernandez Maldonado, especialista del Área de derecho Tributario del Estudio Llona & Bustamante Abogados.
Phone: +51 1 418 4860 / E-mail: contacto@ellb.com.pe
Calle Bolognesi 180, Of. 404 Miraflores 15074, Lima – Perú
Thank you for your interest, enter your data and inquiry and we will contact you shortly.